If you are looking for a full bandwidth, high power DIY Plasma Speaker kit, then please check out our Class-E DIY Plasma Speaker. In recent years, there has been an influx of cheap, inexpensive Chinese Tesla coils passing themselves off as plasma speakers, however, they sound no better than the sound coming out of a broken tweeter and because of the inferior components they are constructed of, usually last a day or two before they spectacularly go up in flames.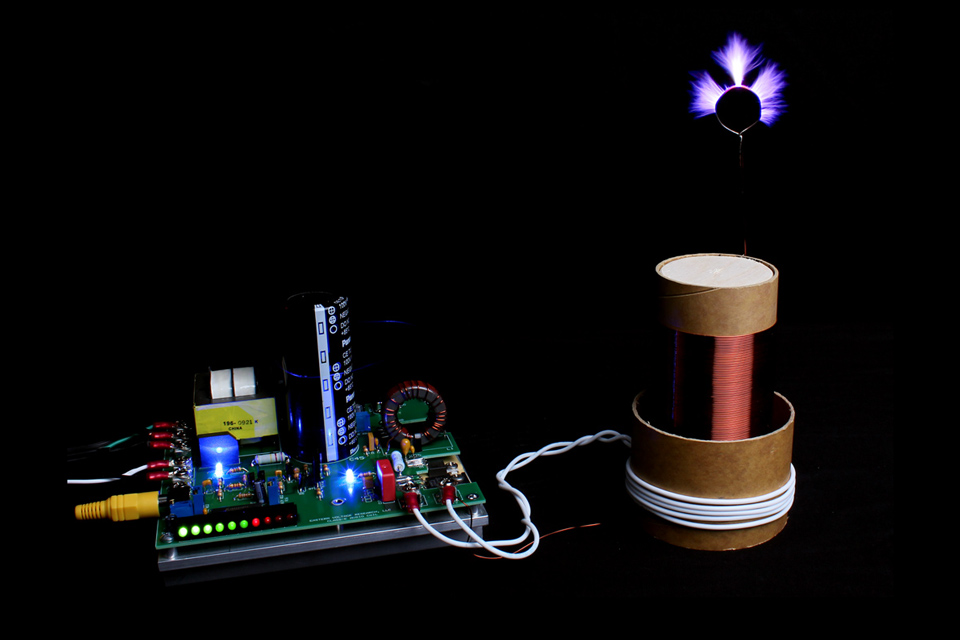 Our high power DIY plasma speaker produces a whopping 150 watts of output power and full bandwidth audio from 100Hz to 40kHz in which the low frequency response sounds amazing! You will not get that from any other plasma speaker kit available anywhere today. Our DIY plasma speaker also includes a high frequency RF 4MHz Class-E switching stage that produces nearly a silent high voltage arc, meaning it can produce very high quality audio without that annoying hissing sound you get from inexpensive plasma speaker kits.
The high power DIY plasma speaker producing incredible audio - listen to that low frequency response!
The Class-E DIY Plasma Speaker kit is also packed with a wide array of very impressive features - features that will surely allow you to be the star of your science fair or impress the heck of your friends and colleagues.
Features:
Produces up to 2" output arcs
Full bandwidth frequency response: 100Hz to 40kHz
Audio input: RCA line-level connector (compatible with cell phone microphone outputs)
Enormous electrical field output - lights up fluorescent and neon lights with ease
Onboard controls to adjust output power, modulation depth, audio input levels, and audio gain
10-step LED VU meter and status LEDs for extra dazzle
4MHz high voltage output produces a virtually silent arc for high quality audio production
High Fidelity Sound Reproduction
I wasn't able to find a quantitative description of what the term High Fidelity actually means, but I'm positive this DIY Plasma Speaker would certainly live up to that name. This plasma speaker creates pristine highs with extreme clarity - every nuance of every sound in the music can be heard. The video below provides an excellent example of how clear and pristine the audio sounds with acoustic and percussive effects. Keep in mind, these videos were taken with a cell phone back in 2010, so despite the incredibly lacking sampling capabilities of a 2010 cell phone microphone, these videos still sound great and demonstrate amazing sound quality!
Listen to that sound clarity!
Uses and Applications
So what can you use a high power plasma speaker for?
Classroom instruction and demonstration
Amaze and impress your friends and colleagues
Use two of them in stereo operation as part as an hi-fidelity audio system
Win science fairs - you will sure be the talk of the science fair with one of these!
Demonstrate the principles of wireless energy transfer with our Wireless Demonstration Kit
Click here for the DIY Plasma Speaker instruction manual (PDF)
Related Products